Pebbles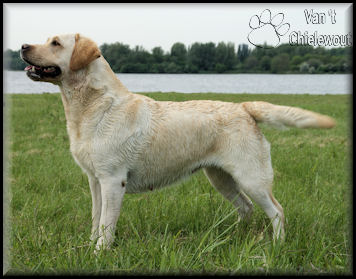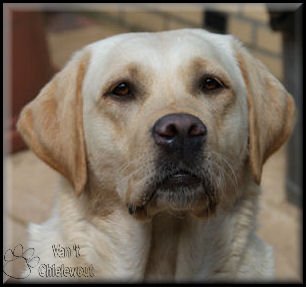 Precious Give en Take v. Sophie's Home.
Geboren: 13.06.2006
kleur: Blond
N.H.S.B: 2612808
Ogen: Vrij 13.4.2011
Hd: A Nw 38 Geen botafwijkingen
Ed: Vrij
Optigen A door ouders
Wesentest: geslaagd 7.01.2007
Pebbles is een dochter van de door ons gefokte Muffin Minnesota van 't Chielewout en een kleindochter van onze Lobke. Wij zijn Marja Beijer heel dankbaar dat zij deze kleine meid aan ons toevertrouwt. Wij hopen dat zij opgroeit tot een fijne lieve labrador zoals haar moeder Muffin. Herfst 2008 heeft Pebbles haar eerste nestje van Interpreter Boy van den Hoogenbroek gekregen. Het waren 8 blonde pupjes voor meer foto's van dit nest klik hier. In 2010 heeft Pebbles een nestje gehad met Wallace ook wel Clanross Rollercoaster to Mollymount en in 2011 haar laatste nestje met Shadowbrook bet on it! Pebbles mag nu met pensioen en van haar oude dag bij ons genieten.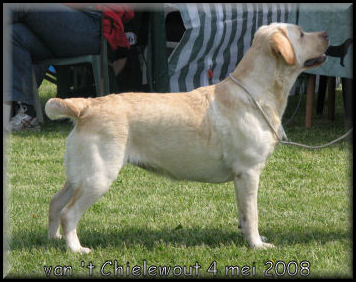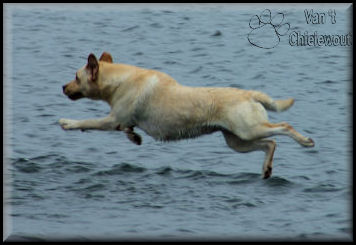 ------------------------------
Stamboom:
Tekell's Precious Brave Heart ( yellow )Hd A ,Ed vrij, Optigen A
Dickendall Davaron Gable (black)

CH Dickendall Arnold (black)




Wolvercote Caity Girl (Black)

Tekell's Good Golly Miss Molly(Yellow)

Briarglen's Ramblin Man (yellow)

Briarglenīs Doc's Emily Oeral (yellow)

Muffin Minnesota van 't Chielewout ( black) Hd A, Ed vrij Optigen A
Multich. Foxrush Word games (yellow)
Rocheby Whiskey Mac (yellow)
Rocheby Heather Around Foxrush (yellow))
Lobke- arel van de Overbuurtsepolder (black)
Ducth Ch. Rocheby Royal Marine (black)
Huey Ruli van de Overbuurtsepolder (yellow)
Shows:
17.05.2009 Fokkerskringdag 17.05.2009 2 uitmuntend open klas teven.
April 2009 Hardenberg 1 Uitmuntend open klasse teven en beste teef
September 2008 Regionale Clubmatch NLV Open klasse teven 4 Uitmuntend
14.06.2008 BRLC te Ardooie (België) uitmuntend keurmeester Mme Josette Germain
17 mei 2008 Dongen fokkerskringdag 3 Uitmuntend keurmeester Mrs R. Hodge
Very feminine, pigment ok, lovely neck into good front, good topline and tailset, nice body, good back end, good coat although molting, moves ok although a little wide in front.
11 Mei 2008 Arnhem 4 Uitmuntend jongen honden klasse keurmeester Mrs E. Hogg
Nice expression, good dark eye, good neck and shoulder, strong level topline, good turn of stiffle, good tail and correct coat. Moved well in front, slightly close behind
4 Mei 2008 Alpen Duitsland Uitmuntend Jonge honden klasse keurmeester Zoltan Kiss
Very nice quality, good type. Pretty head. Nice reach of neck, balanced bitch. Strong round rib cage. Super topline. Nice angulated behind. Moves wide in front.
23.9.2007 clubmatch NLV Uitmuntend Jeugdklasse
24.06.2007 Kampioensclubmatch Uitmuntend 8 Jeugdklasse
Excellent type. Lovely head and expression. Excellent neck and topline. Excellent angulation front and rear end. Excellent body for her age. Excellent bone and feet. Excellent mover. Very promising youngster!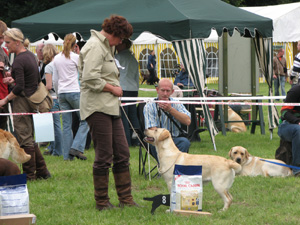 13.05 2007 Fokkerskringdag Uitmuntend
11 Months sweet feminine head. Soft expression.Good reach of neck. A bit short in upperarm. Good angulated hind quarters. Good bone, coat and tail. Sound mover . Alert temperament. Very well presented.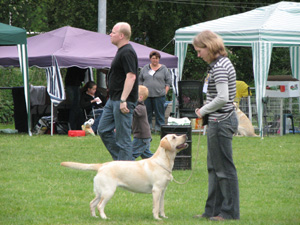 ------------------------------
Leiden 25.3.2007 3 Uitmuntend
Ruim 9 mnd, mooi type, mooi hoofd. Prima oor, oog en gebit. Mooie halslengte. Van voor mooi front, voldoende voorborst, mooi gespierde dij, goed aangezette staart die nog iets zwaarder mag. Al diep lichaam. Rib mag nog verbreden. Zeer goed vacht en vlotte gangen die achter vaster kunnen.
Clubmatch NLV Uden 24.9.2006: Veelbelovend 3e plaats
Heerlijke aantrekkelijke harmonische teef. Mooi in hoofd, oog en oor, hals en rug. Goede staartaanzet. Behoorlijke voorborst. Achter iets beter gehoekt dan voor. Diep lichaam. Goed presentatie en vacht.
------------------------------