Neelix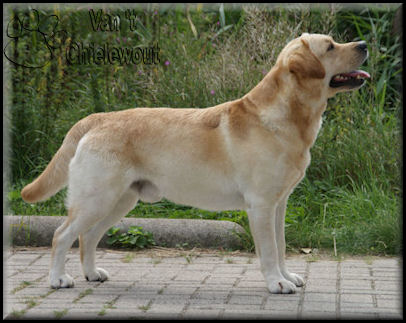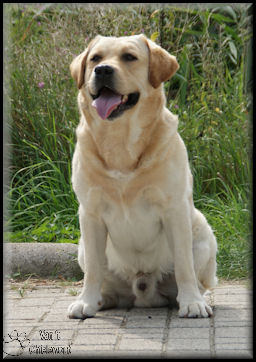 Dutch, German LCD en VDH ,Vet. Ch,Int. Show Ch. Precious Neelix van 't Chielewout
Qualified for Crufts
BIG4, 6 CAC, 6 Res.CAC, 5 Res.CAC, 3 Res.CACIB, 4 BOB, 6 VDH CAC, 3 VDH Res.CAC, 2 LCD CAC
Geboren 6.10.2005
N.S.H.B: 2578714
Male/Reu : Blond/Yellow ( BBee, draagt geen bruin)
Hips/HD:A, NW 40 geen botafwijkingen
Elbows/ED: vrij
Eyes/Ogen : free/vrij 27.8.2009
Optigen: A/ Normal/ Clear
E.I.C : Clear
Myopathie: Clear
RD-OSD: Clear
Wesentest geslaagd 7.1.2007
Neelix is niet meer beschikbaar als dekreu!
Nederlands Kampioen. Duits Kampioen. Friedrichshafen Sieger 2009. Wesentest Bestanden (in Duitsland afgenomen via de LCD), Snuffel Hond bij de Sophia Vereniging. Praktijk jacht ervaring. Meerdere JPC, KNJV en workingtest diploma's, FHN B diploma's en werkproefcertificaten apporteersport B niveau (vergelijkbaar JPC), tevens 2de Nederlandse Competitie Apporteersport 2007 en AC L en M certificaat NLV

Pedigree/Stamboom van Neelix:
Germ. Ch Tekell's Precious Brave Heart(Yellow)

CH Dickendall Davaron Gable(Black)

CH Dickendall Arnold(black)




Wolvercote Caity Girl(Black)

Tekell's Good Golly Miss Molly(Yellow)

Briarglen's Ramblin Man(Yellow)

Briarglenīs Doc's Emily Oeral(yellow)

Lobke-Arel van de Overbuurtsepolder(Black)
Ch. Rocheby Royal Marine(Black)
Kupros Master Mariner(Black)
Rocheby Shady Lady(Black)
Huey Ruli van de Overbuurtsepolder(Yellow)
Silronray's Foxtrot(Black)
Ashley Malu van de Overbuurtsepolder(Yellow)
----------------------
Neelix staat ter dekking voor volledige geteste teven.
Klik hier om een showfilmpje van Neelix te zien. Click here to see a movie of Neelix during a show.
------------------------
Neelix is het broertje van Amber die wij aan gehouden hebben uit Lobke's laatste nest. Hij woont bij Toos van den Toorn en volgt nu een jachtopleiding. In Juni 2009 is Neelix eindelijk Ned. kampioen geworden.
Voor meer foto's van Neelix klik hier en om zijn avonturen te bekijken op zijn eigen dogblog klik hier. Ook heeft Neelix een eigen website.
------------------------
Jachtdiploma's:
B Certificaat NLV 21.4.2007 82 punten
A Certificaat NLV 11.11.2006 85 punten
KNJV C in Bleiswijk 15.9.2006 39 punten
KNJV C in Delft 11.9.2006 43 punten
JPC C in Arnhem 7 Oktober 2006
JPC C in Dongen 10.06.2006
Sociale Huis Hond diploma van de Federatie Hondensport Nederland (FHN)
A diploma FHN apporteersport met 47,48 en 49 punten .
FHN Apporteersport workingtest A 78 punten
----------------------
Shows:
29 November: Amsterdam Winner, 3 Uitmuntend Keurmeester Mevr. E. Tan-Hietalahti
21 November: Bochum, 1 Uitmuntend, CAC, Reserve CAC Keurmeester dhr D. Wilsmhurst
15 November: Friedrichshafen Nat. Ausst., 1 Uitmuntend, CAC, beste reu, BOB, titel Sieger Friedrichshafen 2009, keurmeester Mevr. D. Winter
14 November: Friedrichshafen Int. Ausst., 1 Uitmuntend, Res CAC/CACIB, keurmeester Mevr. L. Harvey Major
18 Oktober: Dortmund Nat. Ausst., CAC en hiermee definitief DUITS KAMPIOEN, keurmeester Mr Martinez
17 Oktober: Dormund Bundessieger, 1 Uitmuntend, keurmeester Mrs. P. van Dee
NLV clubmatch 13.09.2009 Kampioensklasse reuen 1 Uitmuntend
Yellow dog of excellent confirmation. So beautiful balanced through out. Well moulded head with good eye. Dark pigmentation. Strong neck set into well placed shoulders. Good forchest. Stands fore square on well boned legs and feet. Compact in body. Level topline with tail coming straight of the back. Powerfull hindquarters which abled him to move with drive and strech in front.
Topclass Dog
17.05.2009 Fokkerskringdag 2009 4 Uitmuntend fokkersklas reuen.
10-05-2009 Alkmaar 1 Uitmuntend CAC, BOB, Keurmeester Mw Adrichem-Boogaerdt-Kwint
13.04.2009 Leeuwarden, 1 uitmuntend en BOB
4 April 2009: Hardenberg, BOB, 1ste rasgroep 8, 5de Best in Show, keurmeester Mw Adrichem-Boogaerdt-Kwint
28 Februari 2009: Groningen, 1 Uitmuntend, keurmeester Mw H. Jokisilta
21 Februari 2009: Hoogstraten (Belgie), 3 Uitmuntend, keurmeester Dhr K. Young
15 Februari 2009: Rheinberg (DUI), 3 Uitmuntend, keurmeester Dhr D. Kuzeij
22 December 2008: Kerstshow Wijchen, 2 Uitmuntend, keurmeester Mevr. A.Th. Stuifbergen-Hoetjes
30 November 2008: Amsterdam de Winner, 4 Uitmuntend, Keurmeester Dhr AH Brace
25.10.2008 Utrecht 1 Uitmuntend open klas reuen
22.09.2008 Regionale clubmatch NLV 2008 1 Uitmuntend fokkersklasse
24.08.2008 Bedburg-Hau (DUI), 1 Uitmuntend, Reserve CAC VDH CHA Keurmeester B. Krumpak
28 Juni 2008 Uden Open klas reuen, 1 Uitmuntend Res. CAC en volle CACIB Keurmeester Dhr Coode
22 Juni NLV kampioensclubmatch 2008 fokkersklasse uitmuntend keurmeester Mw F. Braddon
14 Juni 2008 BRC te Ardooie 2e in de fokkersklasse , keurmeester Mme Josette Germain
17 mei 2008 Dongen Fokkerskringdag 2 uitmuntend fokkersklasse, keurmeester Mrs R. Hodge
11 Mei 2008 Arnhem 4 Uitmuntend open klas reuen, keurmeester Mrs E. Hogg
4 Mei 2008 Dortmund 2 Uitmuntend open klas reuen, Keurmeester Mw Beate Ting
24 Maart 2008: Leiden, 3 Uitmuntend open klas reuen, Keurmeester Mrs C. Coode
15 Maart 2008: Leiden, Uitmuntend open klas reuen, Keurmeester dhr F. vd Linden
5.1.2008 Hoogstraten BelgiŽ 1 Uitmuntend open klas reuen en res CAC
25.11.2007 Winner Amsterdam 2 Uitmuntend open klas reuen
29.09.2007 Maastricht 2 Uitmuntend jonge honden klasse
23.9.2007 Clubmatch NLV 1 Uitmuntend fokkers klasse
Vlotho Duitsland 22.9.2007 3 Uitmuntend jonge honden klasse
Rotterdam 27.08.2007 1 Uitmuntend en Res Cac/Res Cacib jonge honden klasse
Berghem 10.8.2007 2 Uitmuntend Jonge honden klasse
Kampioensclubmatch 2007 1 Uitmuntend Jonge honden klasse
Giessen Germany 3 excellent
Arnhem 27.05.2007 1 Excellent Jongen honden klasse
KCR Rotterdam 17.05.2007 1 Uitmuntend fokkersklasse en beste reu.
Fokkerskringdag 13.05.2007 1 Uitmuntend fokkersklasse
Lovely type of yellow. Pleasing head and expression. Excellent neck and shoulder. Level topline. Excellent hind quarters. Excellent bone and feet. Correct coat.Sound mover. Very nice labrador over all.
Dortmund 5.05.2007 Jonge honden klasse 2 Uitmuntend Res Cac/Res.-Anw.Dt.Ch.VDH
Goes 21.4.2007 Jonge Honden klasse 1 Uitmuntend Res Cac/Res CACIB
Leeuwarden 9.4.2007 Jonge hondenklasse 4 Uitmuntend:
Very well handled. A good overall picture. Well balanced head, neat ear. Strong neck and schoulders. Good bone and front. Deep in the rib.
Strong topline and tail came off the back. Moved well,
-----------------------------------
Leiden 25.3.2007 Jeugdklasse 2 Uitmuntend
Hoogstraten 24.2.2007 Jeugdklasse 1 Uitmuntend
Wijchen 16.12.2006 Jeugdklasse 3 Uitmuntend
Amsterdam Winner 24.11.2006 Uitmuntend
Bleiswijk 4.11.2006 Jeugdklasse Uitmuntend
Utrecht 28.10.2006 Jeugdklasse 2 Uitmuntend
-------------------------------------
Clubmatch NLV 24.9.2006: Fokkersklas 1 Uitmuntend.
Gele reu van 11 maanden van goed type.Mooi reuenhoofd met goede uitdrukking.
Goed pigment. Prima bone en voeten. Goede schouder en achterhand hoekingen.
Schaargebit. In mooie harde conditie voorgebracht. Goede topline. Gaat nog
wat breed in front en is nog wat trots op zijn staart.
--------------------------------------
26 augustus 2006 Rotterdam Ahoy: Uitmuntend 4e
10 months yellow dog. Still very much a puppy. Good head for age. Very good neck, body and topline. Would like a better tailset. Feet could be tighter.
Moves well. Lovely temperament.
25.06.2006 NLV kampioensclubmatch: Beste reu puppyklasse en beste van het ras in de puppyklasse.
Keurverslag: Very classy puppy. Georgious head. Super neck and shoulders. Very good bone and feet. Well balanced body. Super quarters. Well turned stifle. Moved absolutely super. Lovely puppy.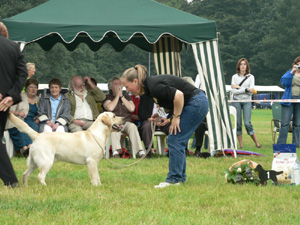 Veelbelovend fokkerskringdag 14.05.2006:
Pleasing head. Well placed shoulders. Good depth. Good bone. Good top line. Strong quarters. Moved well.
-------------------------------
2e veelbelovend Dortmund 5 mei 2006
Keurverslag:
Smart Yellow dog. 7 months old. Kind musculine head. Well develloped forechest and spring of rib. Good length and body. Good rear angulation. Positive movement but would prefer tighter front.
------------------------------