News
* 16.01.2009 Today an ultrasound confirmed the pregnancy of our Xena with Libertycreek simply the best ( Boy) of Meijelicht labradors. We've seen lots of puppy's and we're very happy .
* Our Xena is mated to a beautiful boy Libertycreek simply the best. We hope for a chocolate litter on 20th of February. The whole litter is spoken for!
*8.11.2008 The puppies are born. 4 Males and 4 females. To see more pictures Click here .
*8 Oktober 2008 We're expecting an all yellow litter of our Pebbles and Interpreter Boy van de Hoogenbroek.
* Born on the 4th of June 4 black males and 3 yellow girls. Chelsea is very happy with her kids. Click here for pictures of this beautiful litter
* Great news from Austria! Just Olympia v. 't Chielewout ( Cheyenne) has HD A, OCD and Ed free. We are very happy with this results! Congratulations Gerti! Cheyenne is a daughter of our Xena and Banners lubberline Chock and lives at Montecore labradors
* April 2008 New pictures of the German puppies by Neelix Click here
*28.03.2008 Unfortunatly we've lost the fight. We had to put Koda ( Firdhyqueen Challenger) into sleep. His Elbow Dysplasia was to much for him and cost him his live. He could not be the dog that he wanted to be. We will never forget him.
* 08.03.2008 Vanilla od Himalajskeho Cedru from Germany gave birth to 8 healthy puppies. 3 Boys and 5 girls. Proud father is our Precious Neelix v. 't Chielewout. Mom and kids are doing fine.
*Xena gave birth to 2 males and 2 females. Mother and kids are doing fine. Click here for more pictures.
*.5.2.2008 In January there was a nice meeting between Vanilla od Himalajskeho Cedru and our Neelix. Today we received the great news from Germany that Vanilla is pregnant. Vanilla is living at labrador kennel Aus dem Musewald in Germany. Click here to go to the website. Pups are expected in March.
*29.01.2008 Amber gave birth to 3 girls and 4 boys. Mother and kids are doing fine. Click here for more pictures.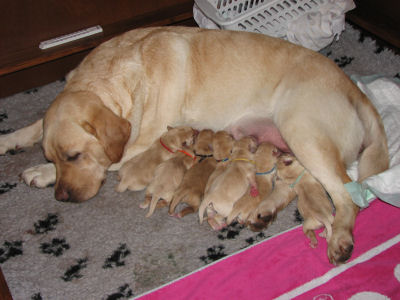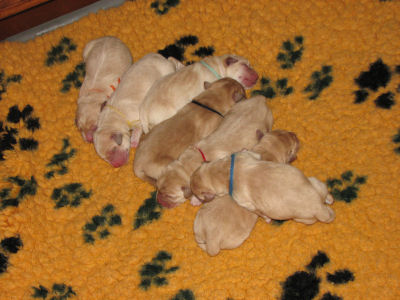 * 9.12.2007 Our Xena was mated to Greenwood Lodge Adorable James. We expect an chocolate litter in the middle of Februari 2008
* 29.11.2007 Our Amber was mated to Devonshires French harmony. We expect yellow puppies in the beginning of February 2008.
20.11.2007 Yesterday we received sad news. Jessie Provencano van 't Chielewout (littersister of our Xena) died after a fatal accident.
* 5.11.2007 ZoŽ gave birth to her son. Mother and son are doing great.
*1.10.2007 Today we went for an ultra sound with our ZoŽ and we're glad to announce that she's pregnant from Chablais Marcello. We expect chocolates at the end of October 2007.
*29.9.2007 Just Olympia van 't Chielewout ( Cheyenne) living in Austria became first in the puppie classe and later became best puppie. Congratulations Gerti and Cheyenne!
*23.09.2007 Clubmatch NLV Neelix 1 Excellent Breeders class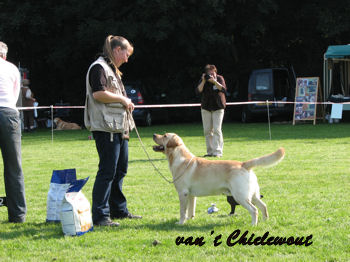 Lovely dog with style. I love his alert, kind expression. Lovely face. Well placed ears. Lovely topline and tailset. Great double tigh. Well layed backhocks. Good bone. Excellent feet.
Chelsea Excellent Open class bitches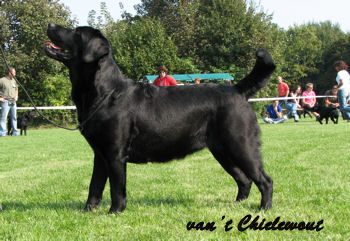 3.5 Year old black in a lovely condition. Nice head, good topline. Excellent tailset, beautiful ottertail. Good stifle, short coupled in body. Angulation is okay , in good coat.
Xena Excellent breeders class bitches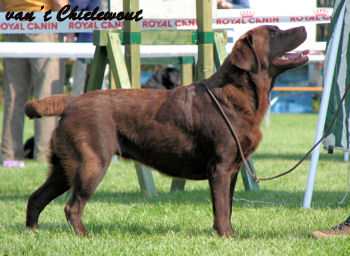 Very nice Chocolate bitch. Nice reach of neck. Good front and shoulders. Good Bone and turn of stifle. Out of coat today. Moves well
Pebbles Excellent youth class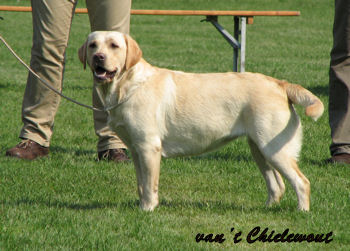 Good bite, headshape ok. Neck good length, good rear angulation, movement okay
Koda Very promissing baby class.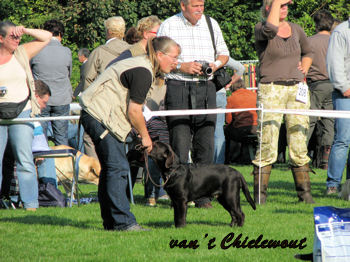 4 Months old chocolate. Good size for age and well boned. Lovely head with correct eyes and ears. Proper harsh coat. Front and rear angulation excellent. Moved happily and correctly. Tail a little low set. But a very promising puppy.
* 22.09.2007 Neelix 3 Excellent in Germany at the LCD show in Vlotho.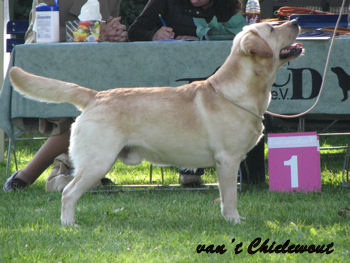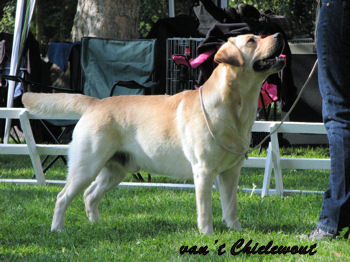 Very kind true labrador head, Excellent pigment, lovely front, well balanced, strong well made hind quarters, correct tail, moved well.

* 26.08.2007 Neelix gets the reserve CAC/CACIB on the show in Rotterdam in de Intermediate class
*10.8.2007 Neelix 2 Excellent in the yearling class on a show Berghem.
*Muffin Minnesota van 't Chielewout is Optigen Normal/Clear.
*21.07.2007 Good news from Austria. Just olympia v. 't Chielewout (daughter of our Xena and Banner's Lubberline Chock) had her first show. She got a very promissing and this is what the Judge said of her:
6 months chocolate puppy with an excellent dark color, she is feminine, nice head for her age, good neck and body, very good bone and feet, moves well, lovely temperament, very promising.
Congratulations Gerti and Cheyenne!
*19.07.2007 The results of Pebbles x-rays are HD A and elbows free. We are very happy with these results.
16.07.2007 Arrived from France Firdhyqueen Challenger . His name will be Koda. Take a look on his own page.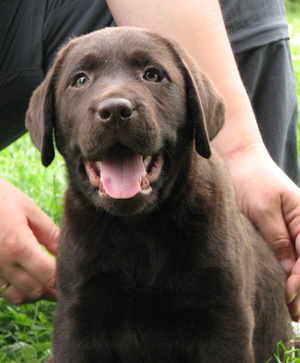 * 24.7.2007 Neelix gets an 1 Excellent in the yearling class on the Champion Clubshow from the Ducht Labrador Society (NLV).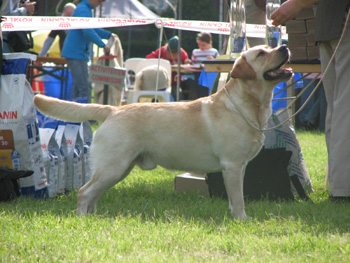 Our Pebbles gets an 8 excellent in a strong youth class bitches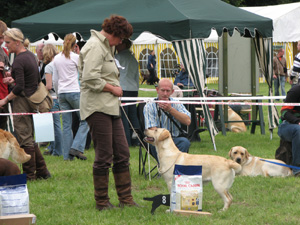 Nala Zazu v. 't Chielewout Excellent in yearling class
Luca Sarabi v.'t Chielewout very good yearling class
IzzyMontan v. 't Chielewout Excellent open class bitches
Ayay Cuidado v. 't Chielewout Very promising puppy class
Nina Mauna Loa v. 't Chielewout promising puppy class
*27 mei 2007, Arnhem: Neelix 1 Excellent, Yearling class Mrs F. Braddon

Very nice type. Super hind, head and expression. Very fit/hard condition. Moves well. Very good in profile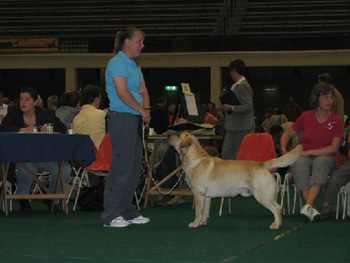 *17.05.2007 Neelix 1 excellent in breedersclass en best dog in Rotterdam.
Nala Zazu van 't Chielewout 1 excellent youthclass and BOB.
*13.05.2007 Results of the fokkerskringdag.
Our ZoŽ 2e excellent open class bitches: Six year old in superb condition. Very feminine in the head, Correct shoulder placement. Level topline and excellent tail set. Fantastic rib cage. Excellent second thigh. Moves like a youngster and excellent coat texture.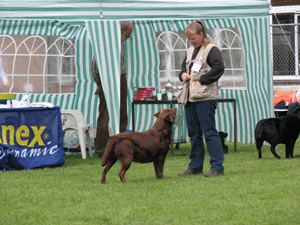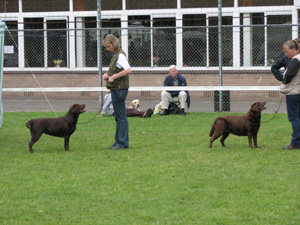 Our Xena 3e excellent open class bitches :Very feminine head. Excellent neck. Slighty upright in shoulder. Level topline and good tail-set. Good brisket. Excellent rib-cage. Nice second thigh. Perfect cat feet. Excellent coat texture. Moves okay.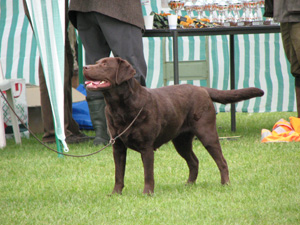 Our Neelix 1 Excellent Breeders class: Lovely type of yellow. Pleasing head and expression. Excellent neck and shoulder. Level topline. Excellent hind quarters. Excellent bone and feet. Correct coat.Sound mover. Very nice labrador over all.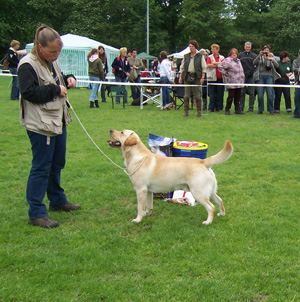 Our youngster Pebbles excellent youth class: 11 Months sweet feminine head. Soft expression.Good reach of neck. A bit short in upperarm. Good angulated hind quarters. Good bone, coat and tail. Sound mover . Alert temperament. Very well presented.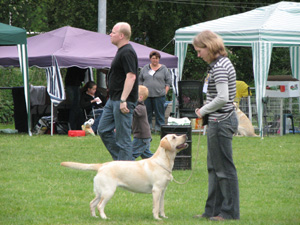 * 9.5.2007 Today our Tara became 11 year.